Hello everyone! No news about your taxes here, but we'd like to welcome you to the new Mollie O'Brien & Rich Moore webpage. Were happy to have a new look, with new pictures, videos, music and concert information.
We're at the tail end of winter here in the Rockies, which can mean nice sunny weather one day and a snowed-out baseball game the next. But we move on. The other night we had the pleasure of sharing the stage with the great Louden Wainwright III at The Armory in Fort Collins, tonight we're doing a benefit for several Syrian refugee families in Loveland, and next week we're on to Oklahoma & Texas! Take a look at our Tour Dates page for the latest information.
And, we must tell you that we've been in the studio recording an EP with Daughters Brigid & Lucy. Look for it in early summer. Of course, we'll keep you up to date on the progress.
Thanks, and we hope to see you somewhere sometime soon.
Mollie & Rich
---
FROM TOM PAXTON: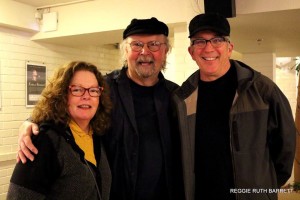 "I had another in a long line of great nights at Swallow Hill Music in Denver on March 4th, accompanied by the vocal harmonies of Mollie O'Brien and the gorgeous guitar of her husband, Rich Moore. See the wonderful Mollie O'Brien and Rich Moore CD, Love Runner, on which they record my song, Central Square; you will not be disappointed."